Archive for June, 2016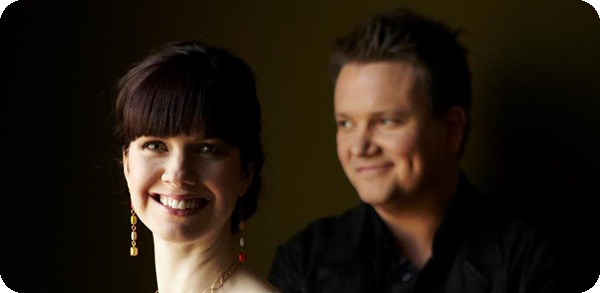 This Sunday, we are excited to welcome Keith and Kristyn Getty to our Springdale campus at 9:15 a.m. and Pinnacle Hills campus at 10:55 a.m. Keith and Kristyn are modern hymnwriters and international recording artists. Cross Church has enjoyed much of their music, and we are looking forward to having them with us in person. I promise you do not want to miss this Sunday at Cross Church!
We are counting down the last few days before the beginning of our Southern Baptist Convention in St. Louis. Our entire team is working to finish up our final preparations and we are looking forward to uniting with Southern Baptists from all over the world. Please continue to pray for me as I prepare my Presidential Address and our discussion panels. It is our prayer the Lord would move mightily to propel us forward in unity. Pray for our team and the Cross Church choir, singers, and band as we all prepare to lead.
We are also looking forward to our Tuesday evening session on June 14, which will be dedicated entirely to prayer. Join us in praying for a mighty move of God at our convention and the beginning of the next Great Spiritual Awakening. Anyone can attend the Southern Baptist Convention, and we would love for you to join us in St. Louis if you are able.
Summer doesn't slow down at Cross Church. In June, we have Kids Camp and Beach Camp, and in July, Middle School Camp and VBX. Begin planning now to join us and consider finding a place to volunteer and participate!
Don't miss our annual Summer Freedom Celebration on July 3, where we celebrate America and honor those who have sacrificed and served, and are still serving our nation. We are so grateful for the freedoms so many have fought for in this great nation God has given us.
Also, join us on Sunday, July 3 for baptism, family fun, and the fireworks that will close our evening. If you would like to follow the Lord in baptism on July 3, go here to sign up or find out more.
Are you ALL IN at Cross Church this summer? We run at full-speed at Cross Church during the summer, and it is a big part of our mission of reaching Northwest Arkansas, America, and the world for Jesus Christ. Please help us operate at optimum levels by continuing to be faithful in our giving over the summer. Our fifteen-week goal from Memorial Day to Labor Day is $5.4 million. It comes down to each of us being faithful in our giving every week, even when we are elsewhere. There are five ways to give, and you can sign up for recurring giving here.
See you Sunday,
Ronnie W. Floyd
As we enter the final stretch toward our Southern Baptist Convention in St. Louis on June 14-15, I want to call upon each individual and every Southern Baptist church to set aside time to pray. For several weeks, I have prayed very specifically and intentionally each day.
Let me share with you how I am praying and perhaps it will encourage you to create your own prayer list for the Southern Baptist Convention. The main thing is pray.
1. PRAY THROUGH THE ENTIRE SCHEDULE
It may seem cumbersome to pray through the schedule, but it does not need to be that way at all. In fact, it is informative and gives you the names of those participating and their related assignments. The entire two-day schedule is located here. Call out each name to God, asking for wisdom and anointing upon each one.
Slow down and give specific attention to praying for each report to be given by our eleven entity Presidents and the President-CEO of our Executive Committee. Additionally, give focus to praying for Dr. Ted Traylor, who will be bringing our convention sermon this year.
2. PRAY THROUGH OUR RACIAL UNITY PANEL
The graphic below is an easy way to see the faces of the people involved and call their names out to God. Give specific attention to both Dr. Jerry Young and Pastor Marshall Blalock. They will each be speaking for 12-15 minutes, then the entire panel will engage in conversation on racial unity in America. Our prayer is that this will be historic and pivotal toward racial unity in America.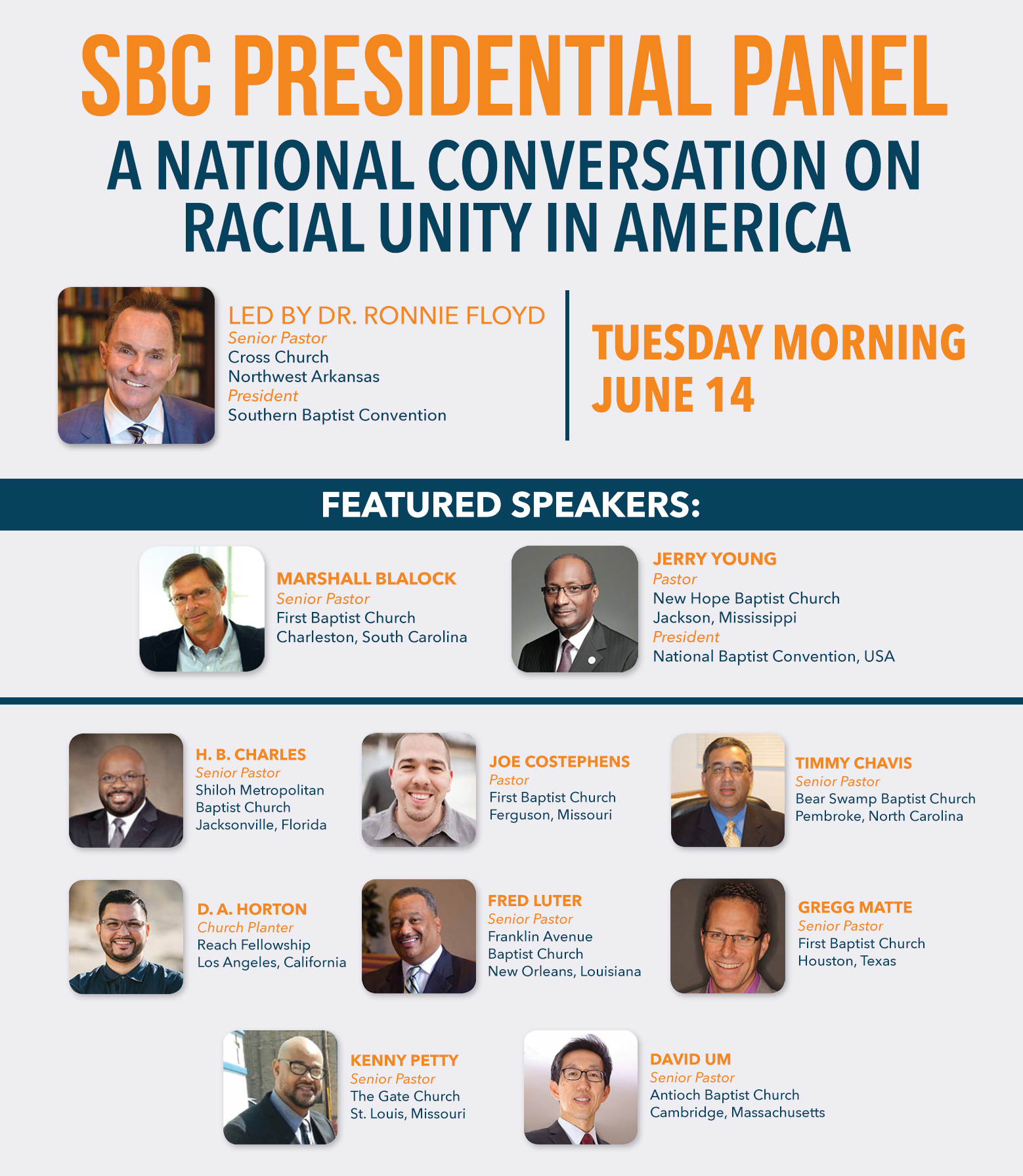 3. PRAY THROUGH OUR NATIONAL CALL TO PRAY
The graphic below is another visible way you can pray through the entire group who will lead us in our National Call to Prayer for Spiritual Leadership, Revived Churches, and Nationwide & Global Awakening. Please give specific prayer focus to Matt Chandler, Johnny Hunt, John Avant, Jerry Young, Senator James Lankford, and Greg Laurie. They will be presenting brief segments from the Scriptures to prepare us to call out to God together. I appeal to you to pray not only for these, but all involved in the evening, including our worship leaders for the evening.
4. PRAY THROUGH OUR PASTORS AND THE CHURCH PANEL
This strategic panel on Pastors and the Church in American Politics Today is of critical concern for each of us. The graphic below can show you the persons who need our prayer as they help us navigate through this challenging and sensitive terrain. Pray for us to hear and see what God will say to us through them.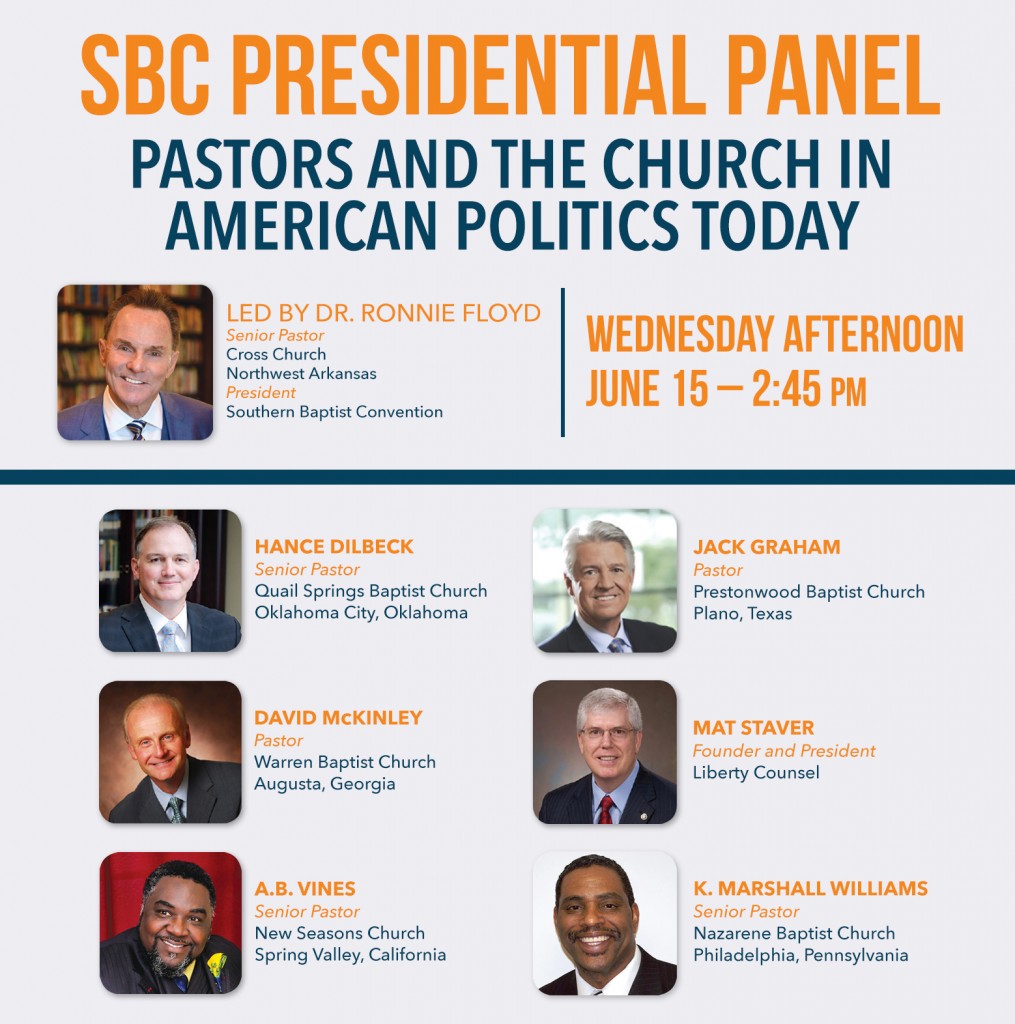 5. PRAY FOR ME
Over these past two months, everything has been converging simultaneously. The details are overwhelming and the preparation is endless. God really accelerated His work through me through a recent 21-day period of fasting and prayer, all focused upon this upcoming Southern Baptist Convention.
The Presidential Address is always critical and God has been faithful to give me His words to share with you. Over the next several days, I will finalize the address, panel discussions, and work with our committees in preparation for the annual meeting. Once we arrive in St. Louis, I have the privilege to speak to churches and other ministries, engage in Crossover St. Louis, and much more. I am blessed beyond words, but deeply burdened to carry out all these things in God's power. Please pray for me.
God is Taking our SBC Meeting Across the World
Do not forget, if you are not able to join us in St. Louis, you can livestream the Southern Baptist Convention on sbc.net. Additionally, our Tuesday night National Call to Prayer will be broadcast across the world live via the Daystar Christian Television Network. There are also other media considering carrying the service via radio. The Lord is blessing and taking the message throughout the world. We give Him glory!
Therefore, we have much to pray about.
Set Aside a Few Minutes the Next Two Sundays in Your Worship Services to Pray for 2016 SBC
Yes, lead your church to pray for our 2016 SBC in St. Louis. There is so much to pray about and our churches need to be engaged in doing so. Last week, we allocated ten minutes in each worship service to pray and will be doing the same on June 5 and June 12. This helps our churches get outside of themselves and gives us as leaders the opportunity to share about the SBC with our people. If we are truly a Kingdom of God people, let's talk about what God is doing around the country and the world, praying through all for His glory.
Thank you for praying. We already anticipate a great attendance in St. Louis. It is going to be fabulous!
Now is the Time to Lead,
Ronnie W. Floyd
Senior Pastor, Cross Church
President, Southern Baptist Convention
*******
Dr. Ronnie Floyd is currently serving as the President of the Southern Baptist Convention. The Southern Baptist Convention is America's largest Protestant denomination with more than 15.7 million members in over 51,094 churches nationwide.
To request an interview with Dr. Ronnie Floyd
contact Gayla Oldham at (479) 751-4523 or email gaylao@crosschurch.com.
Visit our website at http://ronniefloyd.com
Follow Dr. Floyd on Twitter and Instagram @ronniefloyd