Archive for November, 2013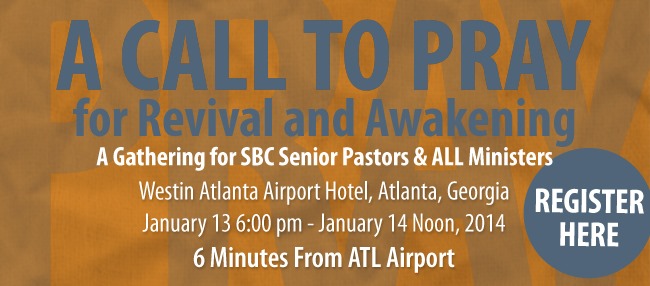 God is doing something mighty among us! Forty Senior Pastors are joining me in calling Southern Baptist Senior Pastors and All Ministers to a major prayer gathering in Atlanta, Georgia, on January 13-14, 2014.
Why Atlanta, Georgia?
Earlier in the fall, God moved in a mighty way at our Prayer Gathering in Southlake, Texas. After prayerful consideration and listening to others, but mostly to the Lord, we believe God is calling us to another national call to prayer gathering to kick off 2014. Atlanta, Georgia, can be reached easily from anywhere in our nation via airlines, and is also easily accessible, for many, by car. We have secured meeting space for 500 at The Westin Atlanta Airport Hotel. There are limited hotel rooms available, so if you need a hotel room, you need to make your reservations as soon as possible.
Who Can Come?
Whether you are a Senior Pastor, a Ministry Staff member, an employee of one of our SBC entities, conventions, or institutions, a student training for ministry, in itinerant ministry, or a retired minister, we are inviting you to gather with us to call out to God, praying for revival in the church and awakening in our nation.
We believe now is the time for Southern Baptist, God-called, ministers of God to prioritize praying for revival in the church and awakening in our nation. This is not a "come and go" or a "come and be seen event;" this is a prayer gathering where we get before God, call out to Him for revival in the church and, spiritual awakening in America.
Go To Praying-Pastors.com Now
You will be able to register for the gathering and reserve your hotel room at Praying-Pastors.com. It is imperative you do this soon. Space is limited and now is the time to save your place. Some Senior Pastors are bringing several members of their staff team. At our Southlake, Texas gathering we had Senior Pastors from churches of all sizes, gather before God in prayer. You can get a glimpse of what happened in Southlake here. Begin praying now. Make your reservation now. Register now for Atlanta. Help us get the word out. This will be one great moment with God. Do not miss it. Join us.
Yours for the Great Commission,
Ronnie W. Floyd
There are plenty of difficult questions Christians must answer regarding how God acts in this world. Perhaps the most often asked is, "If God is good, why is there evil in the world?" Another difficult question is, "What happens to people who have never heard the gospel?"
Christians generally acknowledge that people who reject the gospel are eternally condemned. But what about those who do not hear the gospel? What about people who have been cut off from Christianity and have never heard the name of Jesus? Are they condemned, or does God give them some kind of pass and allow them into heaven?
Believers need not speculate on this matter. God has not remained silent.
No excuses
In a recent post, I talked about how God has revealed Himself in both general and special revelation. Revelation means that God has not remained silent. People of every language and tribe can recognize His existence because of creation.
The hard question comes in the space between general and special revelation, those caught in the information gap. Are they condemned?
Paul addressed this situation in Romans 1, saying, "For God's wrath is revealed from heaven against all godlessness and unrighteousness of people who by their unrighteousness suppress the truth, since what can be known about God is evident among them, because God has shown it to them" (vs. 18, 19, HCSB). The result of this revealed truth, Paul continues, is that "people are without excuse." So while it is easy to think of innocent people who have never heard the gospel, God says no such innocent people exist.
What then?
God has made a way for them to hear the gospel! He called and commissioned His people – first the nation of Israel, then the church – to bear witness to His light. God has placed missionaries the world over.
A recent lesson in Bible Studies for Life noted, "Whether we are members of a pagan tribe in the isolated depths of another continent or managers of great wealth in a bustling city in America, the Bible declares us to be without excuse before the throne of a holy God. This is definitely bad news. But there is good news. The gospel of Jesus Christ offers hope to all of us who are without excuse."1
The burden is on us
The simple fact is this: there are some people who die without Christ, eternally separated from God, not because God does not care but because we do not. God did something only He could do (provide a sacrifice for sin) and empowered us to do what we must do (take the gospel to the ends of the earth). The burden is no longer on God; the burden is on us.
Perhaps this is why the Bible describes those who bring the gospel as having beautiful feet (Isaiah 52:7). Rather than being content to have millions die without Christ, we will live in the power of the Holy Spirit to take the gospel to them. What a blessing it will be to see those who are in darkness come to know Jesus, the Light of life, in this life and the next.
Yours for the Great Commission,
Ronnie W. Floyd
Senior Pastor, Cross Church
General Editor, Bible Studies for Life