Archive for November, 2013

When Jesus healed ten lepers, only one returned to Him to say thanks. When we read this story recorded in Luke 17:11-19, we find it hard to believe the other nine who had this dreaded disease did not bother to return to say thanks and give praise to God.
Question: Do we?
As we race through life, do we take the time to return to Jesus to say thanks and give God praise? For those of us who have a personal relationship with Jesus Christ, let's not forget: We were lost and destined for hell, but Jesus took away our sin, changed our lives, instilled within us purpose, and promises that we have eternity with Him in Heaven. We have much to be thankful for.
Consider: Will you offer thanks this week?
1. Thank Jesus: If Jesus has taken away your sin and given you forgiveness and purpose through your relationship with Him, be sure to thank Him this week for saving you.
2. Thank your family: If your parents are still alive, thank them. If you are married, thank your spouse. If you have children, thank them. If you have influential grandparents in your life, thank them. If you have siblings you are close to, thank them. If you have other relatives that have impacted your life, thank them.
3. Thank your employer: Having a job should never be taken for granted. Always be thankful for your employer. What a blessing to know that you receive income for the work you do for the good of others. Saying thank you in the workplace will set you apart.
4. Thank your friends: Friends are one of the great joys of life. Take a few moments this week to thank some friends who are special to you.
5. Thank your church: What a great blessing it is to be part of a spiritual family. A spiritual family is with us through the storms and joys of life. What a blessing it is to know our spiritual family will pray us through the most difficult times in life.
Final words: This week of Thanksgiving, be like the one leper who returned to Jesus to thank Him and give Him praise. The phrase "Thank you" is one of the most powerful in the English language. This week, let's use it. Thank you for taking time to read these thoughts today.
Yours for the Great Commission,
Ronnie W. Floyd
Life is full of mysteries and moments.
"For who has known the Lord's mind, that he may instruct Him?" (1 Corinthians 2:16)
Have you ever wondered what God is doing? Have you ever wondered why certain things happen in life? We are all limited in what we see because everything we see, we see through a stained glass.
One of the great mysteries happened one year ago today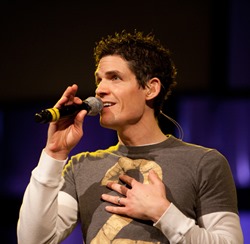 One year ago today at a checkout stand, I received a telephone call from a shocked and broken Dad. This man is one of my great friends in life. His name is Buster Pray. When he stated to me, "Ronnie, Andrew was just killed," I was absolutely shocked, shaken, and moved emotionally. Jeana and I immediately got in our car and hurried to be with Buster and Martha.
I spent the entire way to Bentonville, on the telephone, telling my boys of the death of their dear friend, along with taking care of other matters to help the Pray family.
The death of Andrew Pray, one year ago, is still hard to believe. This young, lively, gifted worship leader from Atlanta, who was raised in our church, was taken from this life through a tragic accident on the day before Thanksgiving in 2012. In the beginning of his prime years on this earth, he was gone in a moment, exiting this life and entering into God's presence.
Andrew's death is a mystery to me. Today is a day we reflect upon him, but we also know with complete confidence that Andrew is in Heaven with Jesus Christ right now. He is in a place where he would never leave to come back here. He will not return to us, but we can go be with him.
On this one-year anniversary of his home going, I want to thank Jesus for Andrew Pray. I still grieve for his loss with his wife, Courtney, and their three children. I grieve with his parents who walk with a painful heart, but overflowing with hope. I grieve with his sister and her husband, his in-laws, and their family, and even his church family in Atlanta. I grieve with his friends. But yet, I still grieve with hope. Andrew left much behind, one year ago at 30 years of age, but he gained so much more. Everything he sang about, he is now experiencing and so much more.
Through this past year, I have visited Andrew's grave several times. Just this past Sunday, Jeana and I stood beside it with his parents, recounting memories and moments. Today, at some point, I will return to his grave for the purpose of honoring him and thanking God for his life. You see, Andrew was a part of our family. We still miss him today. Yet, when I leave his gravesite and when I think of him in any way, I do so with hope overflowing. Yes, even through the mysteries, God is still good and His mercy endures forever.
Charles Haddon Spurgeon was correct when he said,
"When you cannot trace His hand, trust His heart."
Today, I trust the heart and the will of a Sovereign Holy God, who took…
One of life's great mysteries and turned it into a moment
Oh, what a moment it must have been for Andrew when he saw Jesus. He saw the one he loved, gave his life to, led his family and his church towards, and the one he sang about and worshipped. Today, Andrew sees Jesus and worships Him endlessly.
What a moment it will be one day, when his family joins him in Heaven. Without question, Jesus is the center of all Heaven. He is the one and only Jesus. Yet, when his family enters Heaven one day, they will not only see Jesus, but they will also see Andrew again. Oh, what a moment.
Perhaps the songwriter of the past is right:
"It will be worth it all, when we see Jesus. Life's trial will seem so small, when we see Christ. One glimpse of His dear face, all sorrows will erase. So greatly run the race, 'til we see Christ."
With this confidence, contemporary songwriter, Matt Redman, wrote it this way:
"Bless the Lord, O my soul,
O my soul,
Worship His holy name.
Sing like never before,
O my soul.
I'll worship Your holy name.

And on that day when my strength is failing,
The end draws near and my time has come;
Still my soul will sing Your praise unending:
Ten thousand years and then forever more!

Sing like never before,
O my soul.
I'll worship your holy name.
I'll worship Your holy name.
Yes, I'll worship Your holy name."
Why can we have hope and sing like never before?
Under the inspiration of God's Spirit, Paul said it best when he wrote:
"What eye did not see and ear did not hear, and what has never entered the human mind—God prepared this for those who love Him." (1 Corinthians 2:9)
Today, we trust His heart.
Yours for the Great Commission,
Ronnie W. Floyd