Archive for March, 2013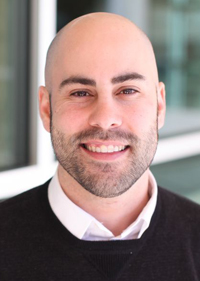 ronniefloyd.com welcomes guest writer Dr. Nick Floyd. Nick is the Campus Pastor at Cross Church Fayetteville.
I am 29-years-old. A millennial. An expert, or so I think sometimes. In fact, most of my younger friends are also experts. Experts in what you may ask?
Everything…sports, church, politics, and anything else that may come up. Often my own pride leads me to think that I know more than I do. If there's one thing I've noticed about my generation, it's that we are in desperate need of one thing: discernment. Honestly, this lack of discernment goes beyond my generation. Many of us think we are experts. If there's one thing I've learned about people, it's that we're all in need of discernment, regardless of our age.
Discernment is the ability to distinguish between right and wrong. Often, right and wrong is not so black and white. Sometimes, it is the difference between wisdom and putting our foot in our mouths. Some are gifted with discernment, most  have to learn it. Discernment is knowing when to tweet and not to tweet. It is knowing when to open our mouths and when to keep them closed. It is understanding when to step out in faith and when not to be stupid.
James 1:19 gives us an excellent filter for our discernment. James writes, "Know this, my beloved brothers: let every person be quick to hear, slow to speak, slow to anger; for the anger of man does not produce the righteousness of God." Isn't it interesting that the first thing he tells us to do is to listen? If I could paraphrase James' words, I would say, "Dude, stop talking, don't get angry so easily, just listen." Often our lack of discernment comes when we refuse to listen and try to quickly get our opinion across because someone has ticked us off. Does your speech follow James' train of thought? Better question: Does your social media follow this command of Scripture? May we all learn to discern.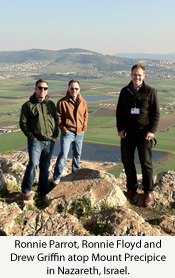 Cross Church family, I write to you today from His Land, the Holy Land in Israel. Jeana and I are pleased to be leading a tour group through this historic and precious country. Most of those here with us are members of our fellowship and all are brand new to the Holy Land—what a thrill! Additionally, some members of our Pastoral Team are here with me. It is a blessing to share this experience with these men, all of them seeing, for the first time the land where Jesus once walked and taught.
Today, we praised Him as we crossed the Sea of Galilee and visited the ancient fishing village of Capernaum where Jesus taught and performed a miracle. We have also witnessed the place of the Beatitudes, then the events of John 21 and Jesus' pursuit of Peter's love, and then ended up at the Jordan River administering baptism to some. I am thankful to return to the Holy Land, especially this close to Easter. As I remember the life of Christ from the other side of the world, I encourage you to start to prepare your heart for Easter.
Preparing yourself for Passion Week:

Resurrection Sunday, March 31, is fast approaching. I've told you already that the Cross Church Passion Week events will be unlike any week in the history of our church. Every member and element of our ministry teams' work, at each campus, is focused on preparing these events in an effort to impact Northwest Arkansas through the sharing of the story of His death, His burial, and His resurrection.
Find a full schedule of Passion Week events here
Cross Church family, be at every Passion Week that your schedule allows for and invite those around you to join you. This will be a week not soon forgotten.
Honoring Christ during Spring Break:

Whether we are here or away on spring break, please do these things:
Pray for your church and our worship services
Give your financial offerings of the first-tenth and above BEFORE you leave or give online here
Connect online in worship for our services here
In the coming days, many of our families will be participating in Cross Church missionary journeys as part of Spring Break. Our ministers will be leading Cross Church teams to reach the lost in Haiti, Malawi, New Orleans, and Los Angeles.
Pray that these groups, traveling near and far, will have a Gospel impact and continue our church mission of "Reaching Northwest Arkansas, America, and the world for Jesus Christ."
To our families remaining in Arkansas during Spring Break, please be faithful with your Sunday morning attendance and support. I challenge you to think how the Lord might use you and your family this year during Spring Break – perhaps you'll challenge yourself to bring a guest to Sunday service, take the opportunity to serve at the campus you attend or at our Compassion Center.
Sunday we continue through the book of Acts:

This Sunday, Dr. Jeff Crawford will be leading our Springdale and Pinnacle Hills campuses in my absence. Dr. Crawford, along with Dr. Nick Floyd, Dr. Andy Goode and Doug Sarver will be moving each of our campuses onward through the book of Acts. This weekend these men will be unpacking Act 2:41-47, a dynamic selection that we will study for the next two Sundays. What we learn will impact your life and future as a Christ-follower and a member of the Cross Church family.