Archive for December, 2016
Year-End Giving
When December 31, 2016, concludes, we need to make sure we have honored God with at least the first one tenth of all God has given us this entire year of 2016 through our local church. When we do this through our Ministry Budget, which is our first funding priority, these funds are utilized for Reaching Northwest Arkansas, America, and the World for Jesus Christ.
If you have year-end gifts or need to ensure you have given the first tenth of all God has given you, our Business Office will be open 8:00 a.m. to 5:00 p.m. on Thursday and Friday, December 29-30, and from 8:00 a.m. to 5:00 p.m. on Saturday, December 31. If you have questions, please call our Business Office at 479-751-4523.
We praise God for His wonderful blessings and your generous giving. Cross Church, we need you; we believe in you; and, we thank you for your continued generosity.
New Year's Day Schedule
We return to our regular service times on each campus on New Year's Day except for Fayetteville. Fayetteville will have two services at 9:00 a.m. and 10:30 a.m. Start the year off right by engaging in worship with your church family. You can find our regular times at each location at CrossChurch.com.
21 Days
We want to begin 2017 by crying out to God together. Join us for 21 Days of Prayer January 8 – 28. We want to commit together to call out to God for 21 consecutive days for our families, our church, and our nation. During this time, you may fast to whatever degree God leads and is appropriate for you. Those who cannot fast from food may choose to fast from social media, television, or something similar. Even if you cannot fast, pray with us. We want everyone to participate in some way. Devotional booklets will be available on all campuses on January 8, or you may text 21DAYS to 313131 to receive devotionals via text beginning on January 8.  Join us for 21 Days with a great expectancy for God to work in our lives and our church mightily.
See you in the new year,
Ronnie W. Floyd
Will You Join Us to Celebrate Jesus' Birthday?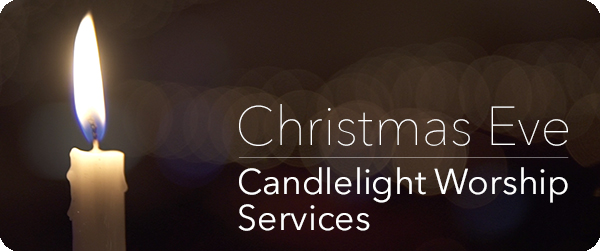 Our Christmas Eve Candlelight Worship Service will be fun, meaningful, and memorable. Our service will be less than 40 minutes in length, so plan to bring the entire family. Please join us at one of our campuses.
Chapel on the Creeks – 1:00 p.m.
Fayetteville – 3:30 & 5:00 p.m.
Springdale – 4:00 p.m. (Spanish Service – 5:00 p.m.)
Pinnacle Hills – 5:00 p.m.
Neosho – 5:00 p.m.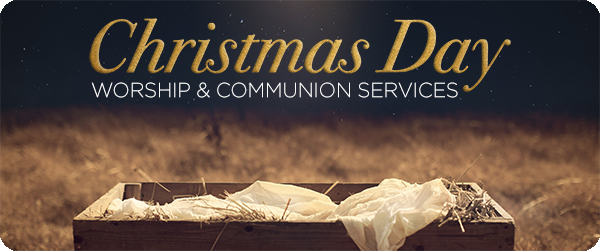 Our Christmas Day Worship and Communion service will be special as we celebrate Jesus' birthday, observe baptism, and experience Communion with family and friends. Our service will be less than one hour in length, so please make adjustments to your normal Christmas Day activities and come. You will not regret it.
Fayetteville – 9:00 & 10:30 a.m.
Springdale – 9:15 a.m. (Spanish Service – 10:30 a.m.)
Pinnacle Hills – 10:30 a.m.
Fayetteville East – 10:30 a.m.
Neosho – 10:30 a.m.
Christmas Eve and Christmas Day services are not the same service, but distinct and different services. We hope you will join us for both because they are unique to the moments and experiences. However, if you can only join us for one, try to come Christmas Day, as this is the Lord's Day and Jesus' birthday.
Christmas Baptism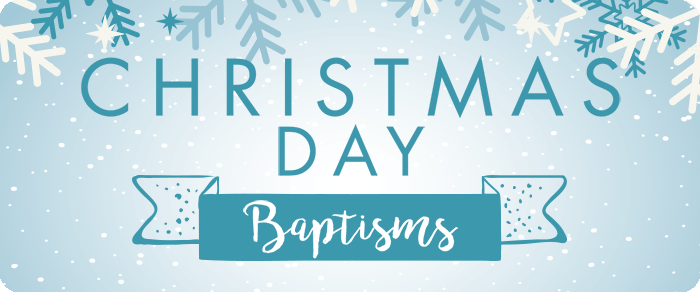 Baptism is a special part of our worship services, and Christmas Day will be no exception. In fact, Christmas morning would be a powerful, memory-filled day to be baptized. If you have a personal relationship with Jesus but have never followed Him in baptism by immersion, would you consider being baptized on Christmas Day? You can find out more and sign up here or contact:
Who Are You Bringing?
Who are you bringing with you to Christmas Eve and Christmas Day services at Cross Church? Many of us will have family visiting, and it is a marvelous time to let our lives be a testimony by worshiping the Lord on Christmas Eve and Christmas Day. Invite others to join you and let's be intentional during this wonderful time of the year.
Yes, We Give at Christmas
Giving is part of worship for Christ followers. Therefore, we will receive our normal offering for our Ministry Budget and other ministries during both our Christmas Eve and Christmas day services. We never ask our guests to give, only members and regular attenders.
Evaluate Your 2016 Financial Status
The key question for each of us at this time of year is: Have I been more than faithful to honor God by giving at least the first one tenth of all God has given to me through my local church? Be sure you follow through on doing this on or before December 31. If you would like to know more about giving at this time of year and the opportunities before you, please read this.
I will see you this weekend to celebrate our Savior's birth,
Ronnie W. Floyd