Archive for the 'Uncategorized' Category

People need each other.
Following having a relationship with God through His Son Jesus Christ, our greatest need is each other. God believes this so much that at the moment of salvation, we become part of Jesus' family, His Church! This occurs just as stated in 1 Corinthians 12:13, "For we were all baptized by one Spirit into one body."
While this happens to us spiritually, we are living in a culture that is completely opposite of this. The American way compels us to live independently of one another. This leads to a selfish and oftentimes destructive life. It also defies the Scripture and is not the life we are called to live within the body of Jesus Christ.
The Greatest Diversity Movement in the History of the World
Jesus created each of us uniquely. Jesus is leading the greatest diversity movement in the history of the world, His Church. This is why Jesus' prayer and desire for us as His Church is to live in unity and oneness. People need each other.
Jesus believes the only way people will believe God sent Him to be the Savior of the world is through the testimony of the Church living in unity and oneness. As recorded in John 17:21, Jesus stated, "May they all be one, as you, Father, are in me and I am in you. May they also be in us, so that the world may believe you sent me."
As the Church of Jesus emerges, the New Testament reminds us how unique we are; but even in our diversity, we should be compelled to do whatever it takes to live in unity and oneness. Therefore, this call to action is declared in Ephesians 4:3, "Making every effort to keep the unity of the Spirit through the bond of peace."
Unite is Something You Do, While Unity is What You Are
Unite is a verb. When we unite, we can unite in the name of a cause or whatever our passion is. We see people unite for their cause, and sometimes the cause can become destructive by dividing a family, a church, a nation, and even the world. You can unite for things and you can unite against things.
While unite is a verb and is something you do, unity is a noun. Unity is oneness. Jesus wants us to live in oneness and unity.
America Personifies Division, Not Unity
America personifies division, not unity. In the last five years, we have seen America become very polarized and divided, spewing words that are vitriolic and destructive. Trust is minimized and division is celebrated.
As I have said before, I say again: America is broken. Division is undeniable. Racial tension is alarming. Lawlessness abounds. Reconciliation appears impossible. Government cannot fix us. Politics will not heal us. The spirit of the age is ruling. America needs God now more than ever before.
Now is the Time for the Church to Lead in Unity
Where is the Church? The Church of Jesus in America is more divided than I have ever seen it. We are living in contradiction of Jesus' desire in John 17. The churches of America are living in disunity. There are not hundreds of thousands of churches, but one Church, the Church of Jesus Christ our Lord. In the past, churches have chosen to unite, recognizing and appreciating important theological variances that are more secondary in nature. But now, churches divide over everything from extreme theological views to things like politics, economics, morality, and social justice issues.
This is not being the Church of Jesus Christ.
Whatever happened to uniting in our belief in the authority of Holy Scripture, Jesus being the only way to salvation, and that the greatest need in the world is the advancement of the gospel of Jesus Christ?
Not only are churches living in disunity with one another, but we also see disunity within thousands of individual local churches. Division is ruling while Jesus is calling His people to unity! Until Christians and Christian leaders stop declaring their independence from one another, we will continue to see disunity and division rule the day.
This is in complete contrast to God's Word and God's will for us in the Church!
Now is the time for the Church to choose unity rather than division. Therefore, let's come back to the authority of the Bible as God's Word, to the Lord Jesus being the only Savior of the world, and the consuming conviction that the world's greatest need is the gospel of Jesus Christ.
We continue our discussion on unity here with Part 2. Please join me.
Now is the Time to Lead and to Pray,
Ronnie W. Floyd
Senior Pastor, Cross Church
President, National Day of Prayer
*******
Dr. Ronnie Floyd is the Senior Pastor of Cross Church, President of the National Day of Prayer, and founder of the Cross Church School of Ministry.
To request an interview with Dr. Ronnie Floyd
contact Gayla Oldham at (479) 751-4523 or email gaylao@crosschurch.com.
Visit our website at http://ronniefloyd.com
Follow Dr. Floyd on Twitter and Instagram @ronniefloyd
Today, RonnieFloyd.com welcomes guest writer, Dr. Nick Floyd. Dr. Floyd is a Teaching Pastor at Cross Church.
Eight weeks ago, our lives changed. It was Good Friday morning and I had slept in on my day off, knowing Easter weekend was about to be both exhilarating and exhausting. When I looked at my phone, I had a text from one of our friends, Jason Carney, who was living in Malawi, Africa. Jason and his family were finishing up a two-year term leading an orphanage that our church helped start, called Esther's House. The picture below shows the news he shared in the text.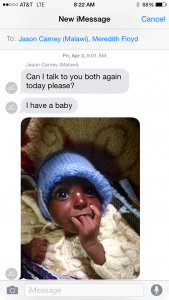 To give you some context, my wife Meredith and I have been on a journey of adoption for the past 5 years. On January 26 of this year, our adoption agency called us and explained they were closing the program of the country that we had been attempting to adopt from. We didn't know what this meant. Was this the end of the journey for us? Would God redirect our steps? As you may know, adoption is a roller coaster journey that requires lots of paperwork, money, and time. Not wanting to jump right back in to the process, Meredith simply said, "I just want God to bring a baby to our doorstep."
On January 26, 2015, Mwayi Siyambili was born. Yes, you read that right. The same day our agency called to tell us our journey was over, God brought this little girl into the world. A week or so after she was born, her mother was tragically killed. As Jason and his wife Lacey were concluding their time working in the orphanage, they began a new ministry called 2nd Milk, which provides formula to babies who lose their mothers. On that tragic day, the head of Mwayi's village brought her to the Carneys to get formula. They gave the formula to them and back to the village they went.
Seven weeks later, Mwayi's father walked around 10 miles from the village to the Carney's house. In his arms, he held a severely malnourished baby girl. In an attempt to save her life, the Carneys took her in that day. This is a picture of Mwayi on that first day. She weighed just under five pounds.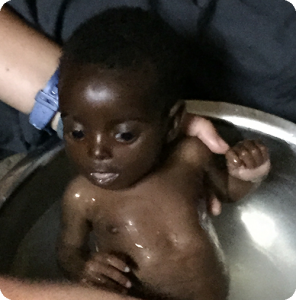 It's remarkable to see how God brought various people from our church in Arkansas to care for this little girl. One in particular made a significant impact in the life of little Mwayi. Anna, a recent graduate of the University of Arkansas from our church, had committed to spend a year working alongside the ministry of Esther's House. Day and night, Anna cared for Mwayi like she was her own. Below is a picture of her during that time.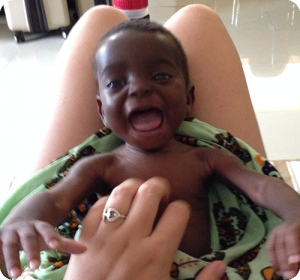 When all seemed to be going well, things took a drastic turn. The severe malnutrition Mwayi experienced, combined with both malaria and pneumonia, put her in the hospital for nearly a month. While in Nkhoma hospital, there was a night where the doctors weren't sure if she was going to make it. A doctor named Barbara from New Jersey worked in the hospital and was someone that God used to save Mwayi's life. One of the most shocking God moments in our entire journey was when we found out that the pastor at Meredith's home church (FBC Sebring, FL) had a sister working in the same hospital.
By this time, it became more clear that Mwayi was adoptable because of her background and medical condition. (Her family was in complete agreement with the adoption and the social welfare wing of the government had also affirmed her need for adoption.) It became clear that nothing could happen on the Malawi side until we traveled there. On May 6, Meredith, Jason, and I left to travel 9,000 miles to this little country in southern Africa.
Over the next three weeks, we went on a whirlwind journey across the country, attempting to get everything necessary to adopt this little girl. These three weeks were the most difficult, faith challenging, and exhausting weeks of my life. The story is too long to tell, but through several unbelievable God moments, we were given permission to travel home with Mwayi on an interim order of custody. On Friday of last week, we boarded a plane with this beautiful child.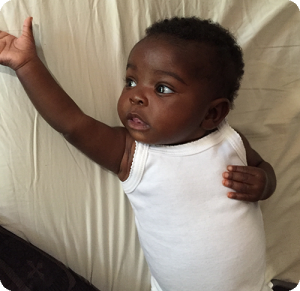 While there are still certain legalities we are waiting on to finalize the adoption, we have great hope that very soon, everything will be official. When you look at her short four months on this earth, Mwayi should have died three different times. Over and over in Malawi when we told people her name, they would reply, "Do you know what that means?" Her name means "lucky." I don't really believe in luck. I do believe in a sovereign God of the universe who looked down on a small baby in a small village in a small country in Africa and intervened in a big way.
We are calling her Maya Faith. We'll keep Mwayi as a middle name. In Ephesians 1, Paul relates our salvation to the picture of adoption. After the past several weeks, that makes a lot of sense to me. Just like little Maya was helpless and headed toward death, all of us are the same in a spiritual sense. We have a God who seeks us, who comes after us, and who pursues us in adoption. Maya's life will never be the same because of adoption just like our lives are never the same after God's adoption of us.
Our story is a story of God's intervention. We didn't expect it and still can't explain it. What we do know is this, when God intervenes in your life, get ready for the ride of a lifetime.
Dr. Nick Floyd
Teaching Pastor, Cross Church
@nickfloyd8