This coming Sunday, we are beginning our Christmas Series! Yes, we are only 56 days away from Christmas Day!
Why I am excited about this new series
I am so excited about teaching and preaching this new series, yes, a Christmas series! Why?
It will be an expositional series: This series will come directly from Luke chapters one and two.
It will be a preparational series: This series will help you prepare for the greatest season of the year, the Christmas Season!
It will be a helpful series: This series will challenge you personally and continually.
The Word of God is so powerful! I am convinced that we will together adore Him, the Lord Jesus, like never before.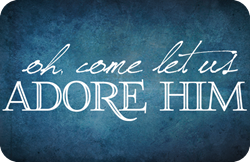 What will come from Luke 1 and 2 over the next few weeks?
For the next several weeks beginning on Sunday, we will teach God's Word, Luke 1 and 2, expositionally. Here are the titles of the sermons you can look forward to at Cross Church:
#1: Breaking the Silence
#2: Mary's Christmas
#3: The Other Christmas Baby
#4: The First Thanksgiving
#5: "Unto us a child is born…"
#6: Christmas: The Promise Fulfilled
You will hear much more along the way!
On November 2 at 6:00 p.m. (CT), Christians across America will join together for the I Stand Sunday event. This event will signify that we stand with the pastors and churches in Houston, Texas, who have been unduly intimidated by the city's leadership.
Tony Perkins, President of Family Research Council will host the event at Grace Church in Houston, Texas. Speakers from across the nation will gather in Houston to focus on the freedom to live out our faith free of government intrusion. Here is a list of just some of the speakers:
Dr. Ronnie Floyd – Senior Pastor, Cross Church and President, Southern Baptist Convention
Mike Huckabee – Former Governor of Arkansas, Host of Huckabee
Dr. Rick Scarborouh – President, Vision America
Steve Riggle, Senior Pastor, Grace Community Church, Houston, TX
Alan & Phil Robertson – Duck Dynasty
Todd Starnes – Host, FOX News and Commentary
Dr. Ed Young, Sr. – Senior Pastor, Second Baptist Church, Houston, TX
As well as several other pastors and leaders in the Houston area
You can watch the free, live simulcast online at istandsunday.com beginning at 6:00 p.m. CT (program duration is approx. 90 minutes).
Saturday is time change. As we "fall back", don't forget to turn your clocks back one hour when you go to bed Saturday night.
Pray for me along the way
Today, I am in New Orleans, ministering at the New Orleans Baptist Theological Seminary. One of my most challenging schedules faces me beginning this Sunday. Following my preaching here at Cross Church on Sunday morning, I will minister through next Friday in the following cities: Houston, Atlanta, Nashville, Cincinnati, and Memphis. Then, after I minister here again on Sunday morning, November 9, I will be in both Louisiana and Oklahoma in the same day.
Yours for the Great Commission,
Ronnie W. Floyd