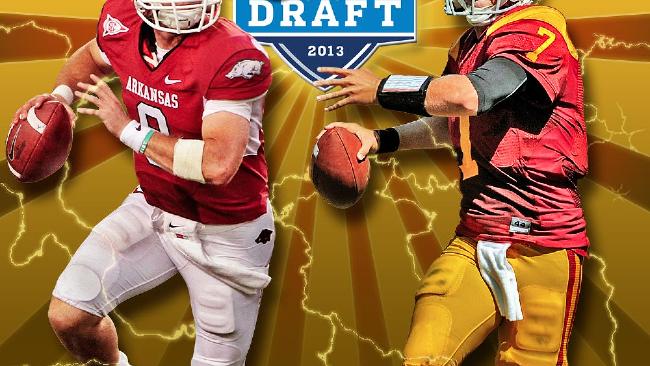 This past weekend, the 32 teams that comprise the National Football League (NFL) conducted their annual draft of college players. Even though our house was filled by two of our grandchildren, I tried to watch the draft throughout the weekend. I love the game of football and always wanted to be a football coach until the Lord called me into ministry.
NFL teams determine the players they desire to draft on the basis of the team's needs, the value of each player by position, the personal interview held with each player, and the personal life of each player off of the field. While considering all of these things, it is the player's availability and value that usually moves each team to determine which men they are going to draft onto their team.
NFL teams spend millions of dollars on reviewing and investigating every player they have on their board of consideration. To them, it is not just about winning games — even though that is dominant — but also their multi-million dollar investment in each player which makes the draft somewhat of a risky business. Each team must to do all they can to know as much as possible about each player in order to lower the margin of error of drafting players on to their team.
Lessons the church can learn from the NFL draft
Lesson #1: Understand that everyone in the church is drafted by grace into God's family. Unlike NFL teams that choose who fits into their system and on their team, the Lord and His church extends grace to each person. As each person responds to the grace of God, discovered only in repentance from sin and faith in Jesus Christ and Him alone for salvation, they are drafted by the Holy Spirit into the family of God. Therefore, at salvation, each person is endowed with spiritual gifts that God has given to him or her through His Sovereign will.
Lesson #2: Everyone in the church has value. We must recognize that every person has value and it is up to Pastors and church leaders to see their value, develop it, and deploy it into action. NFL teams believe that every player on their roster has value and it is up to them to develop their talent and get it on the field as soon as possible. The church must be about developing people and their spiritual gifts in order to deploy them into Kingdom action as soon as possible.
Lesson #3: The church has many needs. The church that believes they have no need for leaders or more leaders in different places, usually will end up with few to no leaders at all! When God brings people into the church, it is our responsibility to place them into the right ministry area to meet the needs of the church. NFL teams do not place big, oversized men who should play tackle in the position of quarterback. At times, the church places the wrong people in the wrong places of ministry. This never ends well.
Lesson #4: The church must evaluate people. We need to seriously learn the value of Biblically evaluating our people. We have to know what each person brings to the table of ministry in the church. NFL teams know how fast their players are, their agility, their strengths, their weaknesses, and what they are best at. Most churches know very little about their people. This is just flat-out wrong. NFL teams do personal interviews, check out players' lives outside of the game of football, evaluate attitudes, as well as the tangibles that are all very important. All of us in the church need to embrace this principle of evaluation. We should be doing personal interviews with our people, checking their outside testimony, looking at their attitude, as well as the tangibles that are so very important — like their gifts and passions. If our churches were as deliberate as NFL teams in evaluating our people, we would stop placing our "spiritual tackles" in the role of "spiritual quarterback." Do not under-estimate the value of evaluating people for the purpose of placing them at the right ministry place in God's time in His church.
Lesson #5: The church is here to win. The teams of the NFL are very committed to winning. What about the church? Are we committed to winning? Winning others? Winning in the community? Winning our nation? Winning the world? Every NFL team is committed to doing whatever it takes to win. The church must be even more intentional in winning. A winning atmosphere is critical in the church. Church, in Jesus we win. Because of Jesus, we win.
Yours For The Great Commission,
Ronnie W. Floyd