Tomorrow, an incredible movement will unfold in our country. Millions of Americans across all 50 states will gather in churches, local businesses, the steps of city halls, in schools, neighborhoods, and public gathering places for a day of public prayer for the United States of America. In one voice, they will lift a single prayer request to God for America: Lord, empower America to Love One Another!
This Thursday, May 2, is the National Day of Prayer. I cannot think of another moment more appropriate for America to come together and pray for us to love one another, just as Christ has loved us. May all of us who follow Jesus our Lord rise up and lead the way!
We are living through a crucial time in our country's history. Division rages, hate and vitriolic language are loud. If we do not find the resolve to come together and confront the issues fracturing our communities and dividing our country, we will not find the peace and healing we desperately need.
In all this, one thing is crystal clear: politics will not heal us, and government will not fix us. We need a massive prayer movement that will lead us back to God and bring healing to our land.
On Thursday evening, May 2, I will lead the National Observance of the National Day of Prayer in National Statuary Hall in the United States Capitol. Can you believe that? We will cry out to God together from the very halls of power and decision making in our nation. You can join us live at 7:30 p.m. EDT on the DayStar Television Network, at nationaldayofprayer.org, or on our National Day of Prayer Facebook page.
In attendance will be some members of Congress as well as hundreds of American faith leaders. Leaders like Rev. Anthony B. Thompson, Rev. Sammy Rodriguez, Dr. Jay and Diane Strack, Nick Hall, Rep. Jody Hice, and Andrew and Norine Brunson will lead us to pray for a Love One Another movement to begin across America, in our government, communities, churches, and among ethnicities. The renowned Brooklyn Tabernacle Singers will lead us in worship music. Gifted Julio Arriola will sing the National Anthem. The Capitol will turn into a place of worship.
This is a moment in American history when the church must rise as one to cry to God and proclaim the gospel of Jesus. If love is to begin to take place across America, it must begin with us: Love One Another!  Pray and participate with us.
I hope you will join one of the thousands of prayer gatherings that will take place across the country tomorrow, and as Jesus our Lord said in John 13:34, "Love one another. Just as I have loved you."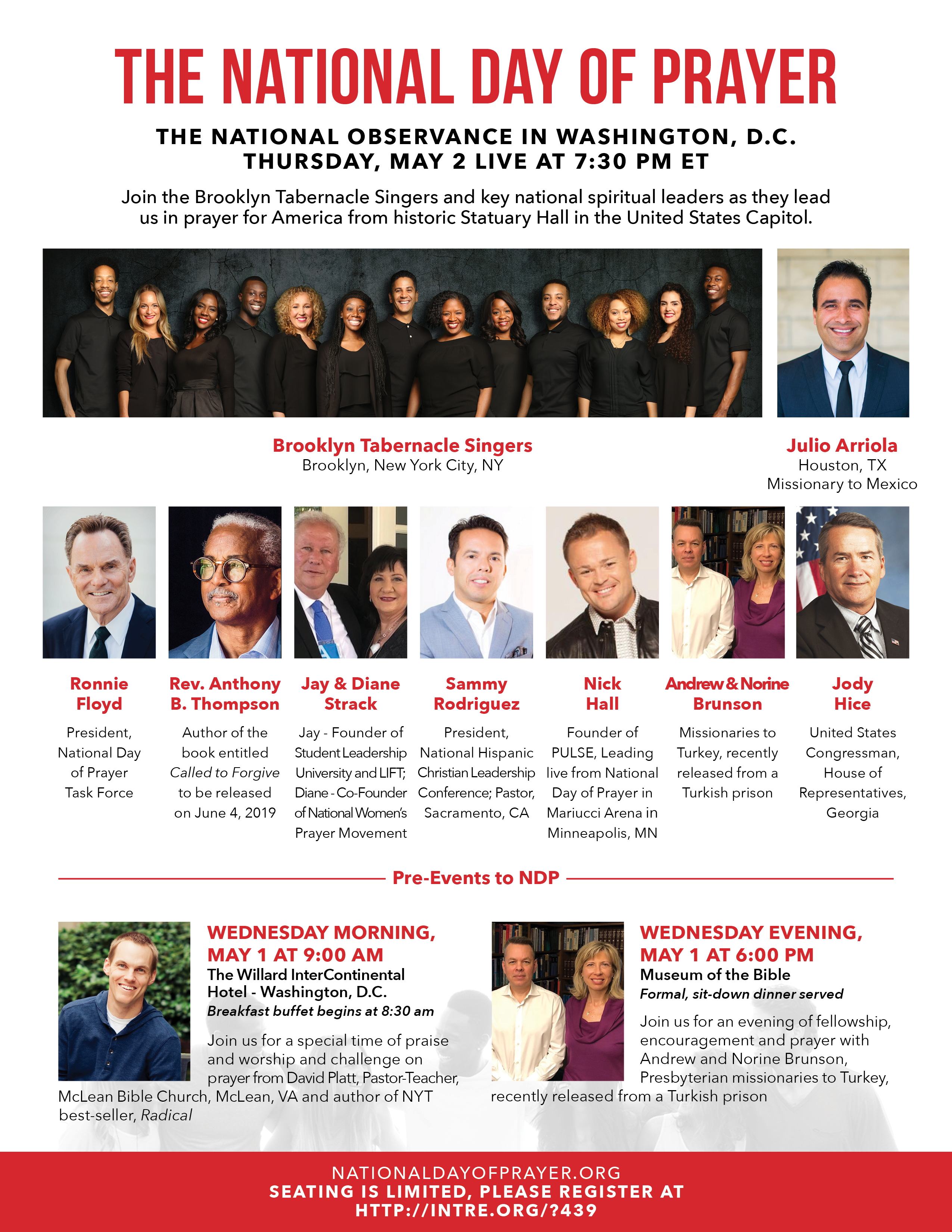 Now is the Time to Lead,
Ronnie W. Floyd