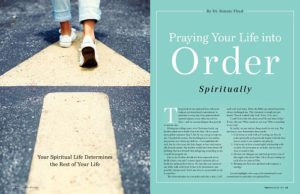 The growth of our spiritual lives will never outpace our intentional commitment to prioritize it every day. Our spiritual development impacts every other area of our lives—and we cannot delegate that growth to anyone else.
During my college years, over Christmas break, my brother asked me to build a barn for him. He is a much more gifted carpenter than I, but he was trying to help me out. I needed the money. But building barns was neither my passion nor within my skill set.
I accomplished the task, but in a few years the barn began to lean and eventually became unsafe. My brother would have been better off building the barn himself than delegating something to me I could not properly do.
Just as my brother should not have expected me to build a barn, you and I cannot expect someone else to build our spiritual lives for us. No one else can construct our daily walk with God. It has to be intentional, purposeful, and personal. Each one of us is accountable to do it ourselves.
The wisest decision we can make each day is this: I will walk with God today. What the Bible says about Enoch has always challenged me. This statement is simple yet profound: "Enoch walked with God" (Gen. 5:24, esv). Could God write this about your life and mine today? If not, why not? What stands in our way? Who is standing in our way?