Start the year off with your church family, and join us on Sunday for worship and small groups. Now is the best time to engage, especially if you have been away for the holidays, or even longer. Join us on the first Sunday of the new year at your campus. Find service times here.
21 Days of Prayer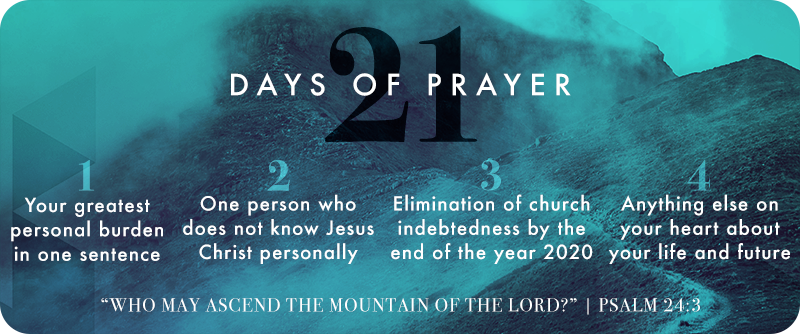 21 Days of Prayer has begun at Cross Church. We want everyone to participate in some way, so even if you must begin late, join us now and go with us to the end. This year, we are asking everyone to focus on these things:
Your greatest personal burden in one sentence
One person who does not know Jesus Christ personally
Elimination of church indebtedness by the end of 2020
Anything else on your heart about your life and future
If you want to consider adding fasting to your prayers over the next few days, please do so to the level you feel called and are able. You can go to crosschurch.com/21days for assistance. There are many ways to fast and effectively support your prayers.
Also consider reading through the Bible with us during 2019. I promise it will change your life. You can find more information and download the reading plan here.
Year-End Giving was Record-Breaking
We consider year-end giving as the giving that takes place from the Sunday following Thanksgiving through December 31. The mail coming in may reveal more over the next few days, but even at this time, we know this year has been record-breaking for Cross Church! We are so grateful to God for your generosity. Thank you, Cross Church Family. May God bless each of you richly!
Looking Toward Spring
We are already looking toward spring at Cross Church. This year holds many exciting things, and we do not want you to miss them. Mark your calendar now for these spring dates:
Freedom Weekend – February 1 – 3, for students in grades 6-12 from all campuses
Student Day – February 3
I Love My Church Day – February 10
NWA Men's Conference – February 24
Kids Day – April 3
Easter weekend – April 20-21
National Day of Prayer – May 2
These opportunities to invite and invest are just around the corner. Begin planning now!
See You Sunday,
Ronnie W. Floyd