After four years as the first President of Cross Church School of Ministry and thirteen years of total, Dr. Jeff Crawford accepted the call to Grace Baptist Church in Knoxville, Tennessee. We sent him out in Jesus' name with blessing and love, and began the search for our next leader.
We Believed God Would Show Us Who He Wanted Here
Initially, we believed the person on our team most ready to lead this ministry other than Dr. Nick Floyd or myself was impossible for us to consider due to the vibrancy of his current ministry. We began to search outside our ministry, open and willing to follow God.
Then, I received a phone call from Dr. Edward Upton, the man we thought was an impossibility. He stated that the Lord had him up most of the night, putting on his heart to tell me, "Pastor, I think if you believe it is right, the Lord may be calling me to take over the Cross Church School of Ministry."
This began several conversations, and the intervention of God occurred. The Lord made it clear to Ben Mayes, Nick, and myself that He was calling Dr. Edward Upton to be the new President of the Cross Church School of Ministry. Another miracle began to occur relating to who the Lord may want to take over as Campus Pastor at our Neosho campus in this exploding season of growth they are experiencing. God always meets our needs.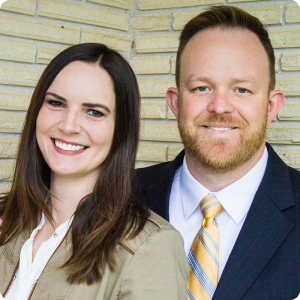 Dr. Upton Has the DNA of Cross Church and is Ready for the Challenge to Lead This Ministry
While growing up in our ministry at Cross Church, Dr. Upton's parents, who are now with the Lord, were faithful members of Cross Church, and faithfully served in our former Bus Ministry. Unquestionably, Ed has the DNA of Cross Church, and this is important to me.
After completing his undergraduate degree in counseling, Dr. Upton received his Masters of Divinity and Doctor of Ministry in Evangelism and Church Growth from The Billy Graham School of Missions, Evangelism, and Ministry at The Southern Baptist Theological Seminary in Louisville, Kentucky.
I believe wholeheartedly that Dr. Upton has been called by God to be the next leader of our Cross Church School of Ministry. He has served as the Campus Pastor at our Neosho, Missouri, campus for the last two years. God has blessed his ministry, and they have seen amazing, explosive, God-sized growth in attendance, salvations, and baptisms during his tenure.
Before coming to lead our Neosho Campus, he served at Prestonwood Baptist Church in Plano, Texas, as both the Minister to Single Adults at the Plano Campus, and the Minister to Adults at the Prosper Campus. He brings to the School of Ministry great experience in the areas of small group development, church planting, and church growth, as well as possessing the academic credentials we believe are needed to lead this ministry within Cross Church. Furthermore, in his future, Dr. Upton may begin working on another degree, his Doctor of Philosophy degree.
Thankfully, God has used Cross Church Neosho to help prepare and launch Dr. Upton into this highly significant, influential, and investing ministry. Our Cross Church School of Ministry is our one-year ministry residency for God-called leaders, preparing them for life, ministry, and gospel advancement globally.
Ed is Supported by His Wife, Eleanor, Making A Fantastic Team
Ed is married to Eleanor, who is highly supportive of her husband. They are a fantastic team. Eleanor has an undergraduate degree in Finance from the University of Central Arkansas and a Master of Business degree from the University of Arkansas at Little Rock. Ed and Eleanor have three children: Benjamin (6), Ruth (4), and Harrison (2), and Mayleen (16) will become a part of their family when her adoption is finalized this summer.
Dr. Upton's Passion and a Shout Out to Dave Kinney
Dr. Upton's passion is equipping people, especially God-called leaders. Every now and then our church may hear Dr. Upton preach, but it is neither his calling nor desire to be a Teaching Pastor consistently. His calling is to lead and invest in others to prepare them for life, ministry, and gospel advancement globally. He is a serious equipper and encourager to people.
I give praise to God for Dave Kinney, who has been serving in an interim capacity with our school of ministry and has done a fabulous job. Dave is twenty-six years of age, and has been doing a superb job leading our College Avenue Campus. He and Emily are a wonderful couple that we love so much and who have a tremendous future with Cross Church.
From Across America and the World, Come to the Cross Church School of Ministry
Please email Dave Kinney or Ed Upton today if you have an interest in attending the Cross Church School of Ministry beginning this August. You can see so much more about our school in this recent article.
Dave's email is davek@crosschurch.com, and Ed's email is edu@crosschurch.com. Additionally, visit our Cross Church School of Ministry website at crosschurchschool.com.
Now is the Time to Lead,
Dr. Ronnie Floyd
Senior Pastor, Cross Church
Founder, Cross Church School of Ministry
Immediate Past President, Southern Baptist Convention