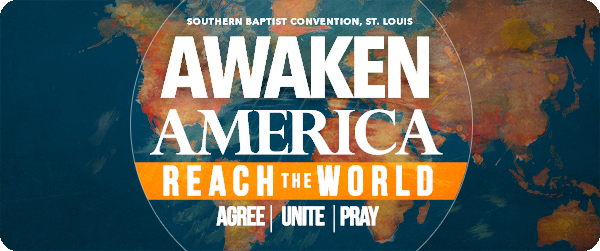 We are 50 days from our 2016 Southern Baptist Convention. I have already announced both our 2016 Committee on Committees and our 2016 Committee on Resolutions. Today, I announce the appointments of three other very important groups.
2016 Parliamentarians
Thirty years ago this June, Dr. Barry McCarty began serving as our Chief Parliamentarian. Dr. Charles Stanley, 1986 SBC President, announced his appointment. For these past thirty years, Dr. McCarty has served our convention, and has been our Chief Parliamentarian for twenty-eight years.
When we introduce our former presidents in our Tuesday morning session, we will also honor and celebrate Dr. McCarty's service that began thirty years ago this summer. Do not miss this grand Tuesday morning session.
Assisting Chief Parliamentarian Dr. Barry McCarty:
Dr. Adam Greenway, Dean, Billy Graham School of Missions, Evangelism and Ministry, Southern Baptist Theological Seminary
Dr. Craig Culbreth, Missions and Ministry—Lead Catalyst, Florida Baptist Convention
Amy Whitfield, Director of Communications, Southeastern Baptist Theological Seminary (Amy may be the first woman ever appointed as an assistant parliamentarian in the modern history of the Southern Baptist Convention.)
Dr. John Sullivan, Retired Executive Director, Florida Baptist Convention
These five leaders will serve as parliamentarians for our 2016 Southern Baptist Convention. They will work together and with me to ensure all meetings proceed in an orderly fashion. Please pray for them.
2016 Credentials Committee
The Credentials Committee reviews and verifies the credentials of each registered messenger. According to SBC Bylaw 8, as president, I am to appoint this committee no less than thirty days prior to the convention meeting. It also states this committee will review and rule upon any questions that may arise in registration concerning the credentials of messengers. If any contention arises concerning the seating of messengers, it is this committee who will consider the situation and report back to the Convention.
This committee will work in the registration area one day prior to the convention, as well as meet with the Registration Secretary, who oversees all matters relating to their responsibilities. Dr. Jim Wells of Missouri serves as our Registration Secretary for the Southern Baptist Convention.
This committee is very important. We live in a unique day in our nation and our convention. We want to ensure all churches represented at our annual meeting have not veered away from our doctrinal beliefs and/or are not operating outside of our Constitution relating to what it means to be a cooperating church. You can read about what this means in Article III of our Constitution.
It is an honor and joy to announce the co-chairmen of this committee. Together, they will lead through this great task to God's glory. I have named two wonderful scholars and committed Southern Baptists to lead this committee: Dr. Jeff Crawford, President, Cross Church School of Ministry and Teaching Pastor of Cross Church in Northwest Arkansas and Dr. Chris Johnson, Pastor, First Baptist Church in Van Buren Arkansas. I have complete confidence in these two men as they work together to lead our 2016 Credentials Committee.
Our 2016 Credentials Committee:
Jeff Crawford (Co-Chairman) – Cross Church – Northwest, AR
Chris Johnson (Co-Chairman) – First Baptist Church – Van Buren, AR
Kirk Carlisle – Pinewood Baptist Church – Pinewood, SC
Aaron Colyer – First Baptist Church – Roswell, NM
Michael Cooper – Grace Community Church – Mabank, TX
Larry Craig – First Baptist Church – Troup, TX
Joshua Crutchfield – First Baptist Church – Trenton, TX
Eric Cummings – New Life Baptist Church – Carol City, FL
Dan Eddington – Island City Baptist Church – Wilmington, IL
Jeffrey Friend – Suburban Baptist Church – New Orleans, LA
Jordan Lee Hill – Highland Baptist Church – Grove City, OH
Adam Hughes – First Baptist Church of West Albuquerque – Albuquerque, NM
Kevin James – New Creation Bible Fellowship – Tracy, CA
Ben Kendall – Calvary Baptist Church – Republic, MO
Matthew McCraw – First Baptist Church – Henderson, KY
Garland Moore – Immanuel Baptist Church – Milan, NM
Paul Purvis – First Baptist Church – Temple Terrace, FL
Aric Randolph – Brentwood Baptist Church – Brentwood, TN
Van Richmond – New Life Church – Nashville, TN
Charles Smith – Redeemer Fellowship – Kansas City, MO
Walter Strickland – Imago Dei Church – Raleigh, NC
Chien Thang UC – First Baptist Church – Pensacola, FL
Ric Worshill – Crossroads Community Church – Island Lake, IL
Dante Wright – Sweet Home Baptist Church – Round Rock, TX
Please pray for this committee. 
2016 Tellers Committee 
In our 2016 convention, our Tellers Committee will be very important. When the messengers of the Southern Baptist Convention are called upon to vote via ballot, it is the members of the Tellers Committee who are responsible for tabulating the outcome of each vote.
As president, it is requested of me to appoint the Tellers Committee. When messengers complete their registration in St. Louis, they will be given printed ballots for voting. When a ballot vote occurs, the tellers tabulate the vote under the supervision of the Registration Secretary of the Convention.
After the tabulation of the ballots, the Chairman of the Tellers Committee reports the outcome of the vote to the secretaries. The President or Registration Secretary announces the results to the convention.
By the nature of their responsibility, this committee is very pivotal in conducting business when these moments occur. We must insure it is led by and contains great leaders of integrity.
Co-chairmen of this committee are: Dr. A.B. Vines, Senior Pastor, New Seasons Church, Spring Valley, California, and former President of the African American Fellowship of the Southern Baptist Convention; and Dr. Brandon Park, First Baptist Church in Raytown, Missouri. These are two great men and leaders that I know the Lord will use to lead this committee to fulfill their assigned role with the highest integrity.
Our 2016 Tellers Committee:
A.B. Vines (Co-Chairman) – New Seasons Church – Spring Valley, CA
Brandon Park (Co-Chairman) – First Baptist Church – Rayton, MO
Judson Adams – Lifespring Church – Marysville, OH
CJ Adkins – Westmoreland Baptist Church – Huntington, VA
Marshall Ausberry – Antioch Baptist Church – Fairfax Station, VA
Doug Austin – Bethany Baptist Church – Cape Girardeau, MO
Gary Bearce – Pioneer Baptist Church – Wasilla, AK
Daphiney Caganap – New Seasons Church – Spring Valley, CA
Alan Chan – Mandarin Baptist Church of Los Angeles – Alhambra, CA
Justin Compton – Redemption Hill Baptist Church – Fishersville, KY
Jed Coppenger – Redemption City Church – Franklin, TN
Anthony Dockery – St. Stephens Baptist Church – La Puenta, CA
Joseph Gaston – Redemption Baptist Church – Pompano, FL
Alex Gonzales – Hickory Tree Baptist Church – Balch Springs, TX
Michael Guyer – Open Door Baptist Church – Raleigh, NC
Beau Hughes – The Village Church – Denton, TX
Royce Hulett – Oakland Baptist Church Hazlehurst, GA
Krissie Inserra – City Church – Tallahassee, FL
Brian Jump – First Baptist Church – Clever, MO
Leslie Manning – First Baptist Church Meadville, MO – Pine Bluff, AR
Neil Marsh – Broadmoor Baptist Church – Madison, MS
Steve Patterson – First Baptist Church – Carl Junction, MO
John Powell – First Baptist Church – Hamlin, TN
Jeremy Roberts – Church of the Highlands – Harrison, TN
Matthew Stewart – South Shore Baptist Church – Crownsville, MD
Brad Wheeler – University Baptist Church – Fayetteville, AR
Please pray for this committee.
Register Today for Our 2016 SBC
With due diligence, we have worked to prepare for this year's convention. Please pray for me, my team, and of course, all of our leadership in the Southern Baptist Convention. It truly takes a team to pull off an experience like the Southern Baptist Convention's Annual Meeting.
If you haven't already, register now for the Southern Baptist Convention. Let's meet in St. Louis ready to see one another and meet God in His power and glory as we pray together for the next Great Spiritual Awakening in America and recommit ourselves completely to reaching the world for Christ in our generation.
Now is the Time to Lead,
Ronnie W. Floyd
Senior Pastor, Cross Church
President, Southern Baptist Convention
*******
Dr. Ronnie Floyd is currently serving as the President of the Southern Baptist Convention. The Southern Baptist Convention is America's largest Protestant denomination with more than 15.7 million members in over 51,094 churches nationwide.
To request an interview with Dr. Ronnie Floyd
contact Gayla Oldham at (479) 751-4523 or email gaylao@crosschurch.com.
Visit our website at http://ronniefloyd.com
Follow Dr. Floyd on Twitter and Instagram @ronniefloyd