Imagine with me what could happen if you brought a National Day of Prayer gathering into your workplace, welcoming anyone who might attend. The National Day of Prayer is recognized on the first Thursday of every May across our nation and may provide a natural way to engage in prayer in your workplace. Thousands upon thousands of prayer gatherings could occur across America on May 2, the National Day of Prayer.
We encourage everyone to participate in a community gathering, but some will be unable due to work schedules or family responsibilities. Others may not feel comfortable in larger group settings. A workplace gathering may be a great opportunity for prayer.
There is still a great love for America today. Even people who may not be Christ-followers know that America is in great need. While they may not know much about prayer, many may gather if you promise you will not make them uncomfortable or call upon them to pray, but will pray together for America in the workplace on the National Day of Prayer on Thursday, May 2.
5 Important Things You Need to Do
How can you accomplish this in your workplace?
1. Request permission from those in authority.
For clarity, the National Day of Prayer has been law in America since 1988. Both the House and the Senate unanimously recommended then President Ronald Reagan sign a law that was amended. It made the first Thursday of May the National Day of Prayer. Your authorities need to know and understand this.
Appeal humbly to use some time during the day, whether it be before work or during lunch, to lead a prayer experience in observance of the National Day of Prayer.
2. Determine a place and time to meet.
If you are given permission to gather, determine a place and time to meet. I would encourage you to limit the time in respect of your workplace. I suggest that it be no longer than 30-45 minutes, but a shorter gathering may even be a great place to begin. It may take some years for your gathering to grow, so be wise about the location you choose. You can always change if needed.
3. Determine who will lead it.
You could lead this gathering of prayer for our nation yourself. You could involve a team of leaders to work with you in accomplishing this goal. If no one at your workplace feels comfortable leading, you could request a local church pastor or a group that may be leading other gatherings in your town come lead one for your workplace.
4. Determine the content of the gathering.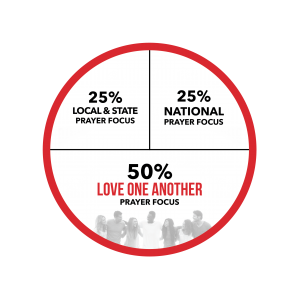 When determining the content of the gathering, the context should always be kept in mind. I recommend focusing on:
Prayer for local and state: 25% of the allotted time
Prayer for the nation: 25% of the allotted time
Prayer for our 2019 theme, Love One Another, to occur in America: 50% of the allotted time
This is only my recommendation. You and your team will determine the time and focus. We will have prayer points available on our website. You can end the gathering by praying The National Prayer, which permits everyone present to participate with millions of others across America in agreement.
5. Communicate with your workplace about the gathering.
Each workplace has an effective way to communicate within the organization. If permitted, use it to communicate with your coworkers. Additionally, and more importantly, invite people to come with you, and ask those leading with you to do the same.
Do Not Neglect
Do not neglect to participate in another gathering in your community. Then, do all you can to bring the National Day of Prayer into your workplace. Be wise, humble, and keep everything balanced and non-threatening. We want people to pray for America.
Go Here for Assistance
Please go to www.nationaldayofprayer.org for assistance. If you have any questions, please email: mick.crump@nationaldayofprayer.org or call (800) 444-8828. We want to assist and serve you in mobilizing unified public prayer for America.
Now is the Time to Lead and to Pray for America,
Dr. Ronnie W. Floyd
Senior Pastor, Cross Church
President, National Day of Prayer
*******
Dr. Ronnie Floyd is the Senior Pastor of Cross Church, President of the National Day of Prayer, and founder of the Cross Church School of Ministry.
To request an interview with Dr. Ronnie Floyd
contact Gayla Oldham at (479) 751-4523 or email gaylao@crosschurch.com.
Visit our website at http://ronniefloyd.com
Follow Dr. Floyd on Twitter and Instagram @ronniefloyd